Regular price
$31.94 USD
Sale price
$26.97 USD
Unit price
per
Sale
Sold out
Bring Joy to your Watering Routine™
The moon was a fun to make addition to my Rain Clouds. When I think about the moon I think about change so in coming up with this design I wanted it to not feel stuck in one phase. This moon has a deep crescent shape that rests on the post supporting the cloud with the included rubber band and can pivot and change to add more dimension. This Glow in the Dark version looks white under normal light and glows blue when charged or under UV light. Under normal use though I really don't see the glow in the dark effect as sitting in my window the shift from daylight to dark is usually too subtle. All of my charms are removable pieces designed to work with my rain cloud and do not interfere with its function.
These Rain Clouds turn watering your plants into art by dripping water like a gentle rain. The clouds rain for up to 10 minutes and are not meant for extended watering. They were simply invented to bring joy to your regular watering routine. I find it soothing and visually pleasing, and the slow drip gives your plants more time to absorb the water and helps promote consistent watering. Makes a wonderful gift for the plant lover in your life.
This unique design is injection molded locally here in North Georgia to ensure you get the best experience possible. Each cloud holds 4oz of water which drips in a slow pleasing manner thanks to our patent pending design. The clouds are held up with 2 clear acrylic rods to help it look like it is floating over your plant and not detract from the plant's foliage. Charm accessories are available to bring even more personality to your cloud and plants. All of the charms are designed by me to specifically work with my cloud design.
Our Original Dripping Rain Clouds are designed to fit directly into plant pots 5 inches and larger. Stands are available to use the Rain Cloud for smaller pots. Each cloud is approximately 6"x3.5". The acrylic rods are 12" long and come with tips to make inserting them into a plant pot easier.
Rain Clouds are a fun decorative accessory for your houseplants. The dripping water adds an additional interactive element but is not suitable for all plants.
Planter and plant not included.
Share
View full details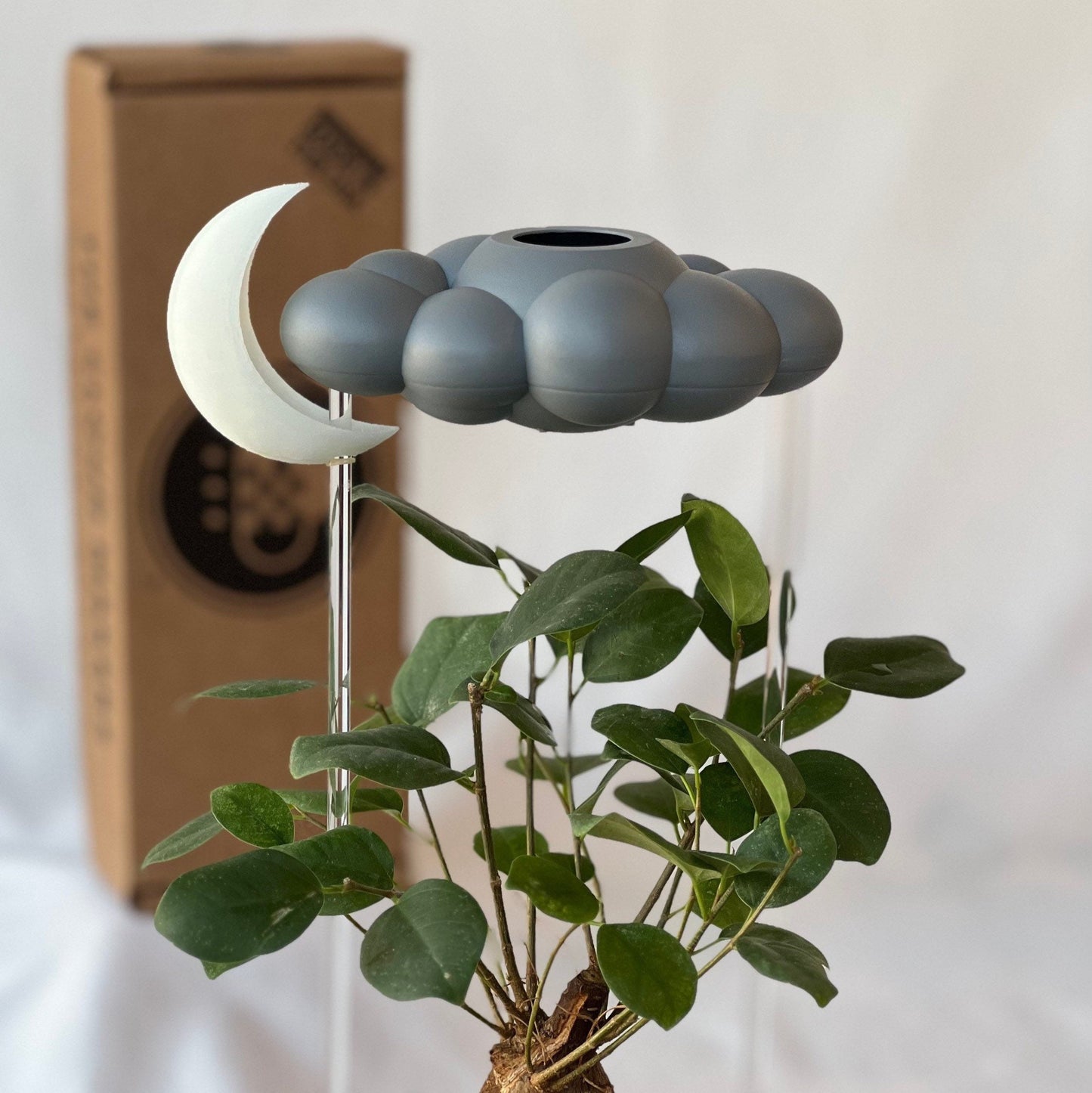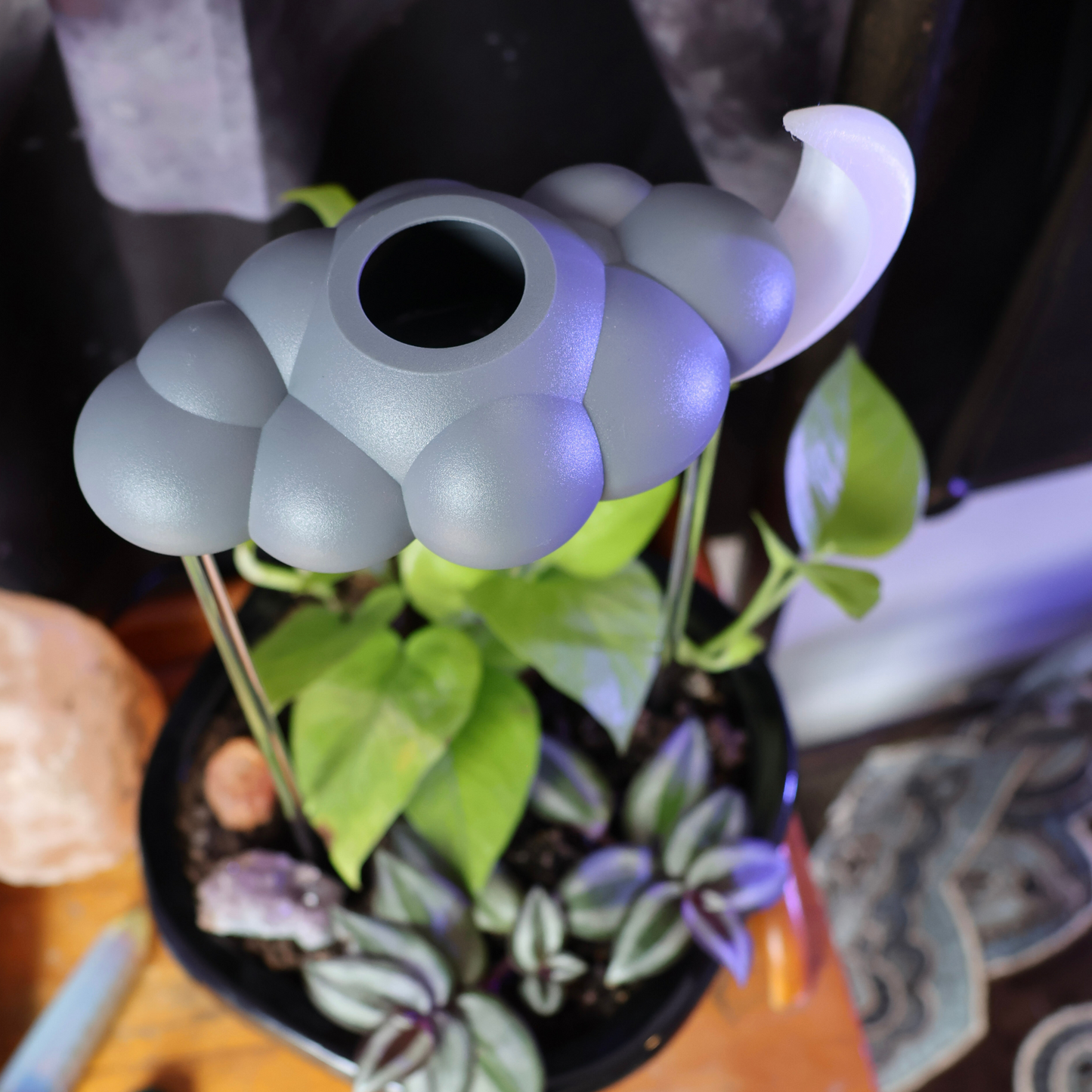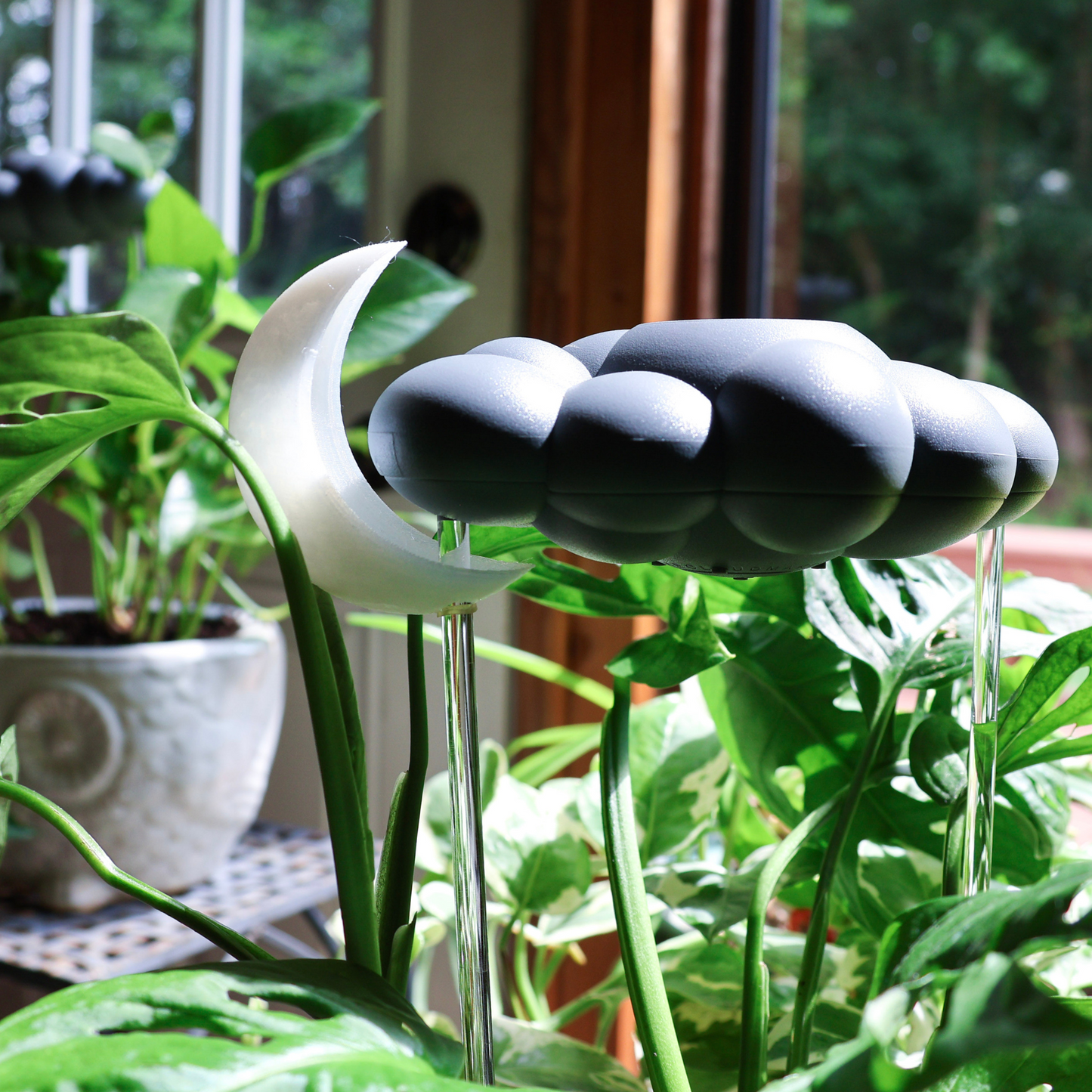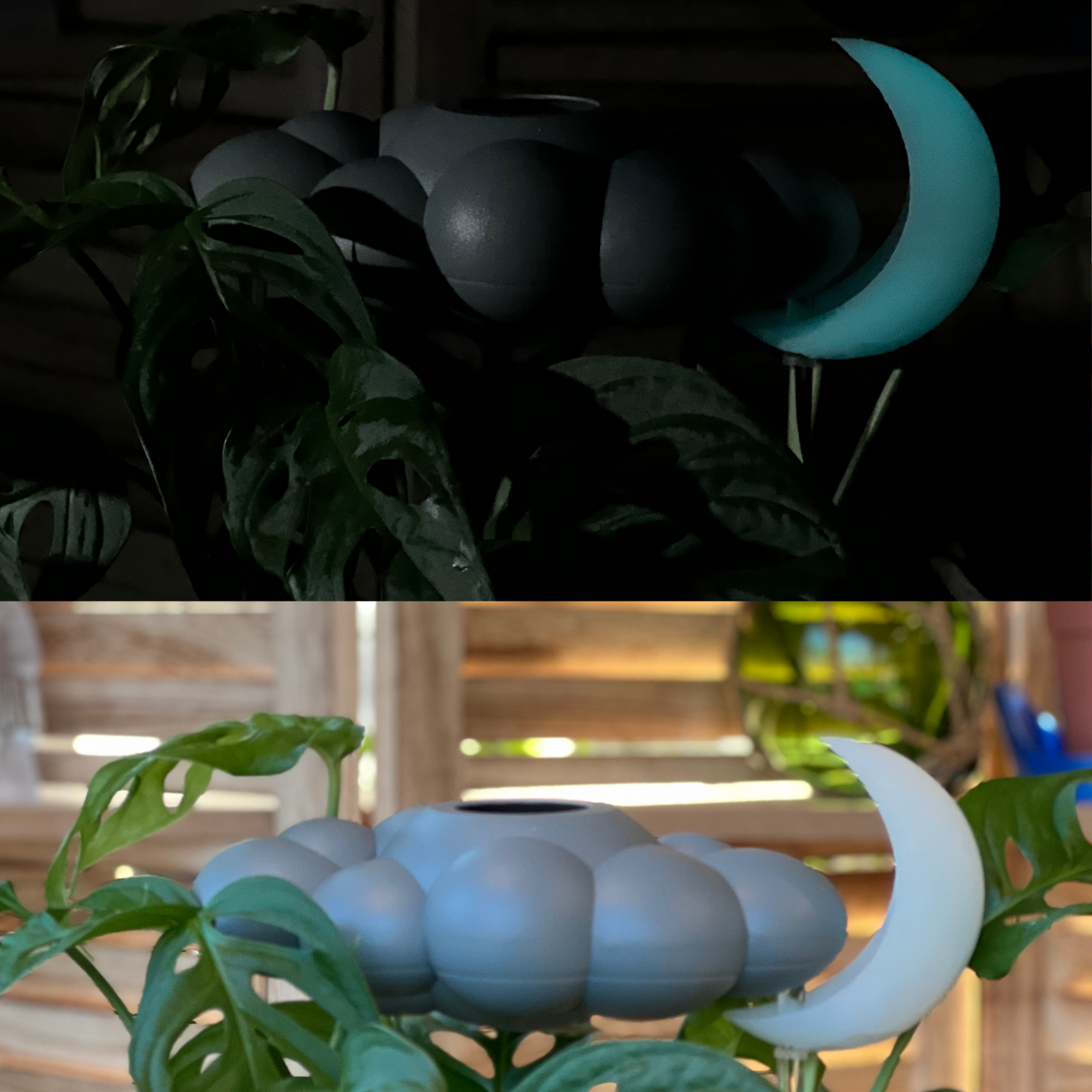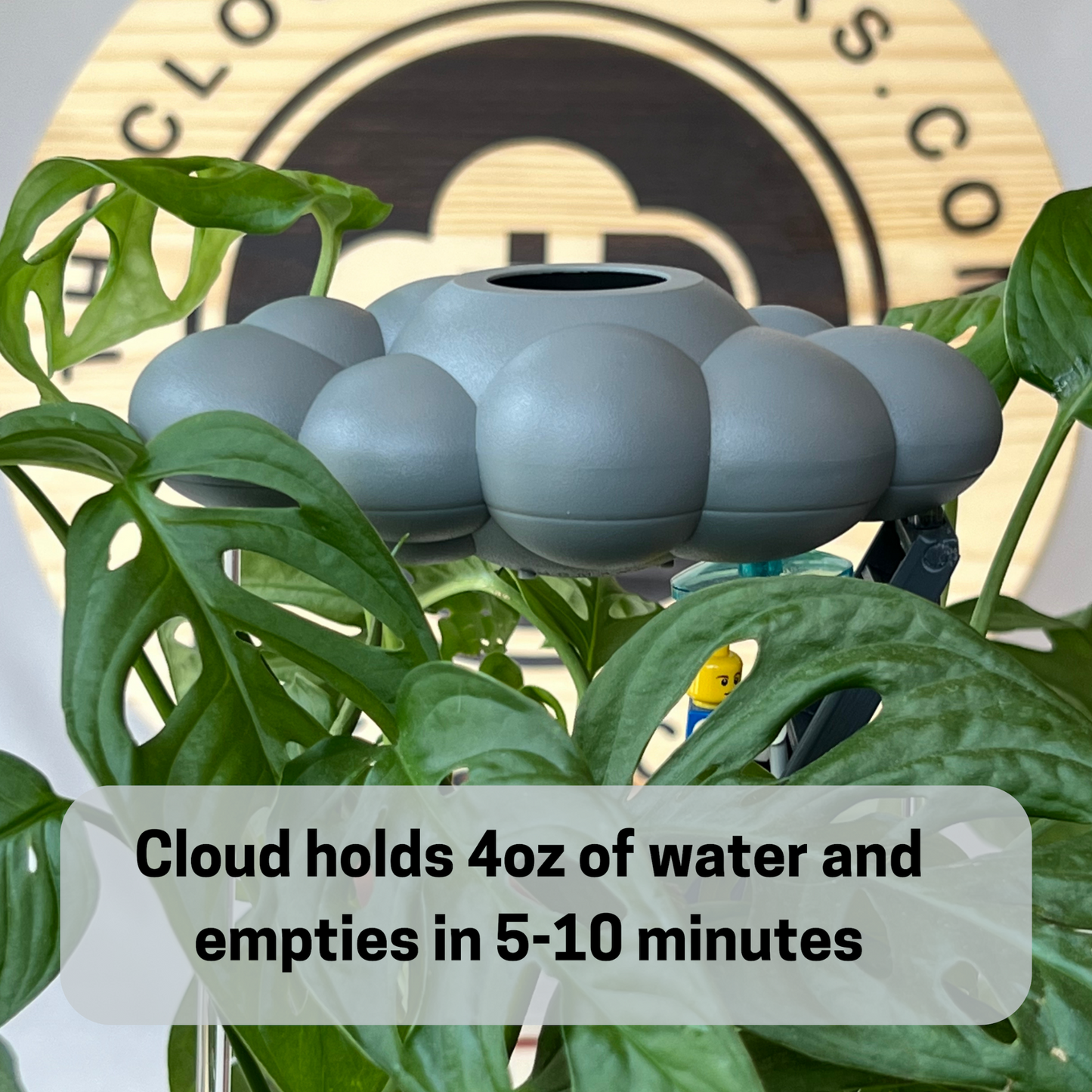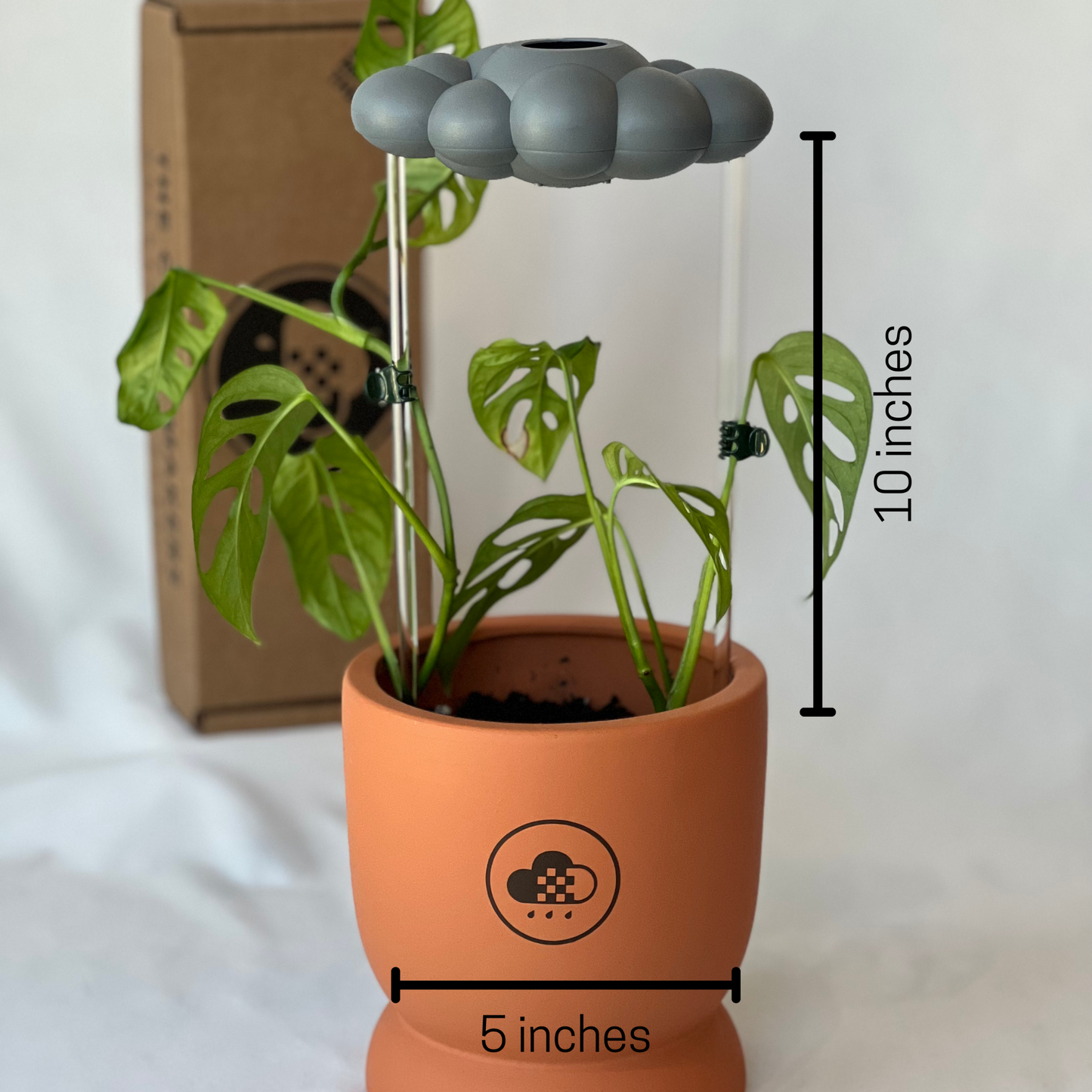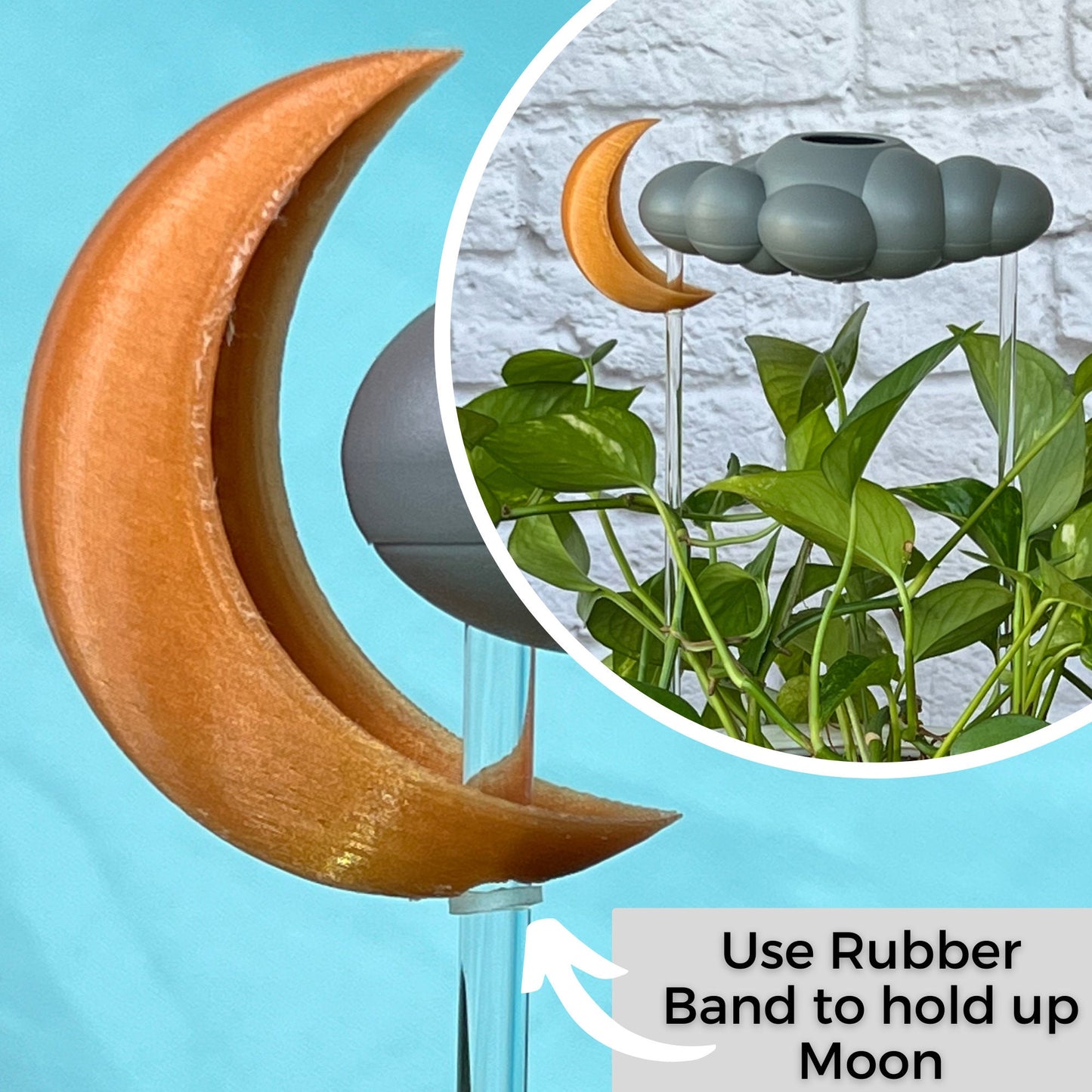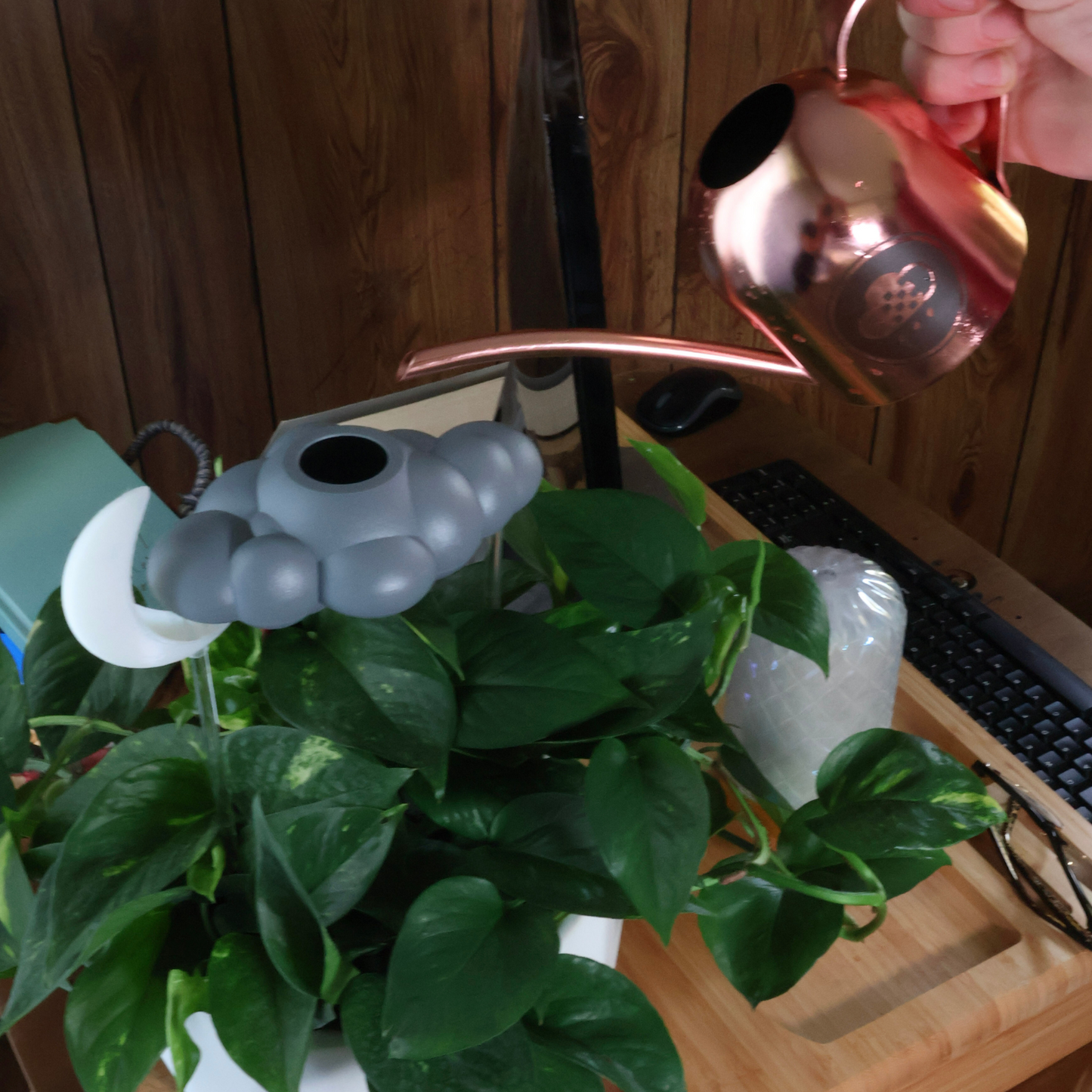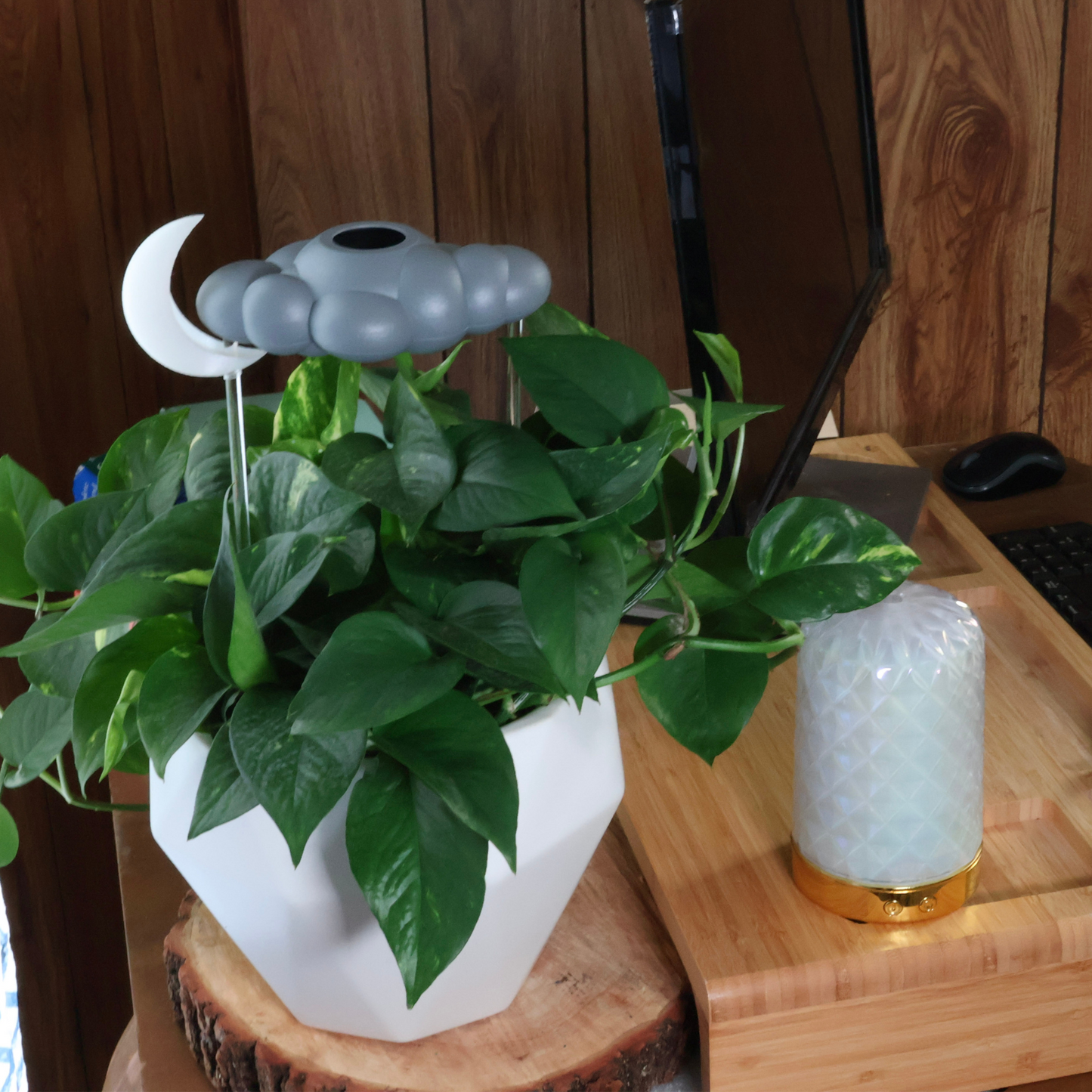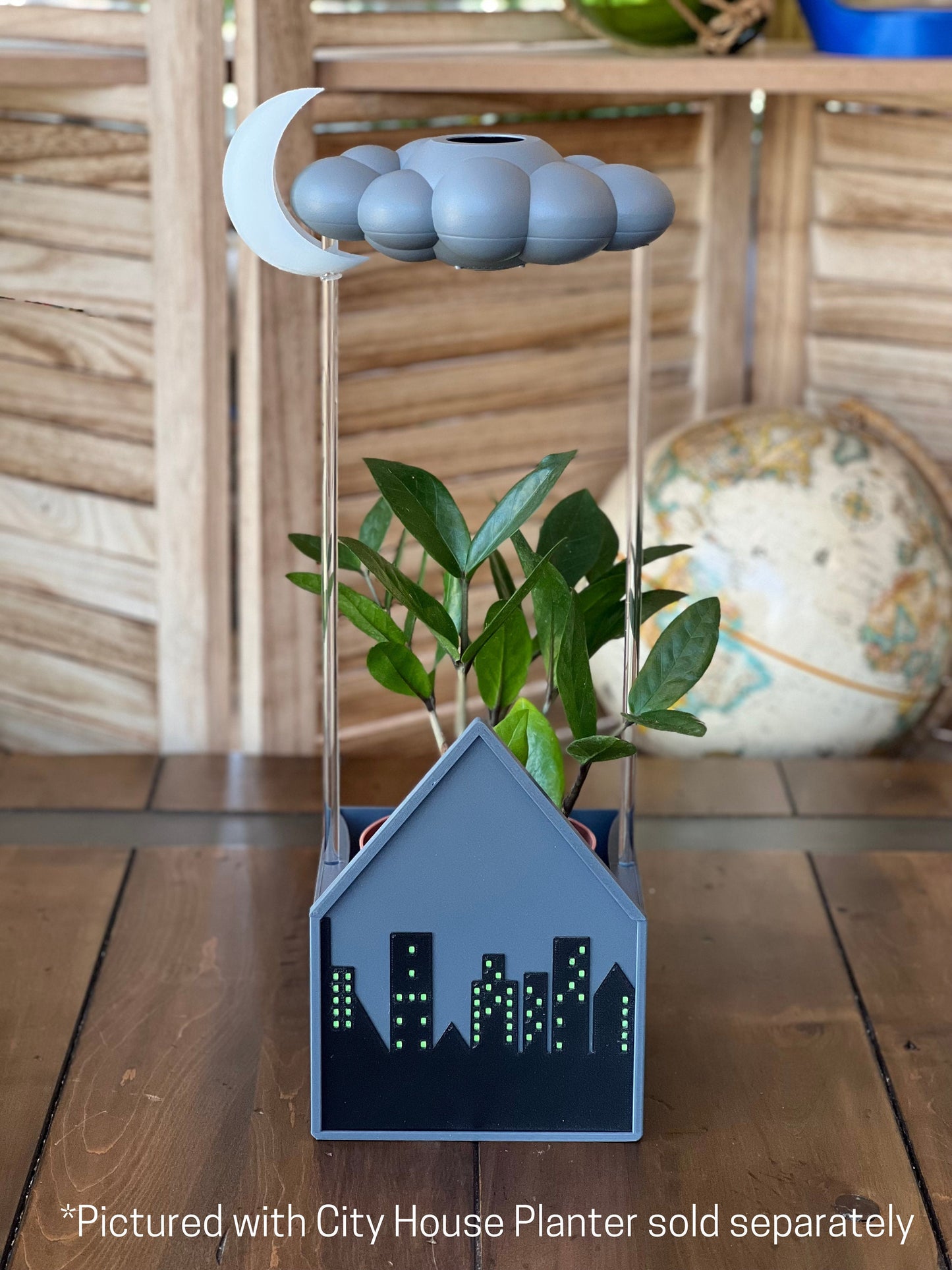 This review has no content.
This review has no content.
This review has no content.
This review has no content.
I love my little cloud! It came just as pr...
I love my little cloud! It came just as promised and I have had no issues with it at all. I even found tiny clear rubber bands to support the moon.
I may order another one for a big pot that is hard to reach to water as often as I should. The cloud system would maybe save a plant!
This review has no content.
This review has no content.
This is absolutely darling! I love it so...
This is absolutely darling! I love it so much. Shipping was quick as well. I will be wanting more, maybe for some taller plants!
Collapsible content
DETAILS

Our clouds are unique designs copyrighted by the artist and made locally. Our injection molded clouds are patent pending.

Charms, Stands and Planters are 3D printed and designed only to work with The CLOUD MAKERS brand Rain Clouds.
TIPS

Not all plants enjoy being watered from above. If you notice your particular type of plant is not as healthy discontinue use as a watering device or try it on a different type of plant, the cloud is still a fun decorative element for your plants. 
SHIPPING

All items ship free via USPS. We currently only ship to the United States.